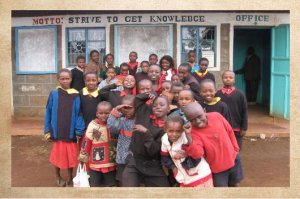 Welcome To Hosanna Children's Home!
Hosanna Children's Home is located in Githunguri, Kenya. At any given time there are 50-70 young people who receive services at different levels from Hosanna. Many are orphans and live there full-time, some receive school fees, and others call Hosanna their home, but are boarders in other schools. We have seen much progress over the past 11 years.
2016 Project- Chicken Farm and re-painting of Hosanna
This summer Hosanna got a make-over!!! Our team and the staff of Hosanna (and some kids!) worked hard to re-paint all the buildings at Hosanna. We watched as the buildings went from dull and dirty to clean and vibrant! We also spent a year fundraising so that Hosanna could have another revenue generating business, The Chicken Farm project began two days before we left, and already they had over 100 eggs. The children watched in amazement as 130 chickens were delivered and placed in their new home. The eggs will be sold to local grocers, individuals and used as food for the children.
2015 Project- Children's Garden, hand-made pillows for the children and New Church Floor
Once again our team worked together with the children and staff of Hosanna to improve the current condition of the home, through hands-on projects. Our first project was a new Children's Garden that is both beautiful and functional, with a combination of decorative and edible plants. Always trying to be mindful of keeping Kenya clean, we were able to paint recycled tires as our boarder and plant containers. Next we raised money for the church to get a face lift. The church floor was dirt, and with all the dancing we do, it would get quite dusty. This is problem as the staff, children and guest breath the dust in. A new floor was installed, along with new windows(windows were provided by another organization) Last, we worked with the staff and kids, teaching them(or them teaching us is more like it) how to sew and put together new pillows. The children all received a brand new pillow and pillow case. They had never had a pillow before.
2014 Project – Greenhouse
This summer we will once again be taking a crew with us to love on the kids of Hosanna and attempt to bring a self-sustainable project to the home. It is always our goal to provide temporary relief while planning towards a more independent home. This year we will be working with Amiran Greenhouses of Kenya to build a greenhouse that will not only provide nutritious food for the children, it will provide a source of income and possible employment for locals. Our current goal is to raise $5000 for this project, we have currently raised a little over half of this amount. To donate for this project simply click the donate button below!
Summer 2013 at Hosanna- Dorm Update
In June of 2013, we took a small crew to Hosanna Children's Home. While there, we remodeled the nursery school, and began construction on a new boys dormitory. We met with the directors and board members of Hosanna and reviewed plans for a permanent building for the home. This three story building would include a church, classrooms, dorms, cafeteria, offices and visitor quarters. This is there ultimate permanent goal for Hosanna and the price tag on this project is about $329,000.00 We will be working to raise that money and help fulfill this long awaited dream.